A few weeks before, Thanksgiving we started to get into the holiday spirit by bringing our Christmas tree up from the basement. We didn't decorate it right away though. With RIley now crawling, we wanted her to grow accustom to it so that she didn't crawl over to it every moment we set her down on the floor. A week before it was turkey time, we decide to go ahead and decorate the tree, hang the wreath that Meghan made, and get our stockings up. During that time we talked about trying to find a Santa Clause for RIley to meet and take pictures with. A quick Internet search showed that wasn't going to be cheap!
The two closest mall Santa's (Lansing Mall and Meridian Mall), both charged a minimum of around $40 to get a picture package, and don't allow you to use your own camera. $40 was way too much money for an 8 month old that can't tell Santa anything, and for us to get some sub-par photographs. So I kept looking.
I stumbled upon a place called Peacock Road Family Farm. I've been living here in the Lansing area for almost four years now, and hadn't heard of this place until now. In addition to Fall activities that are similar to Uncle John's (pumpkin picking, games, etc), they also host Christmas activities, like cutting your own tree, wreath making classes and even taking a "train" ride to see Santa. It was only 30 minutes a way, so on Saturday, Nov 30th, we made the trip there.
When we arrived, there were quite a few people. You could tell this was a place that people have routinely come to for years and years as part of a family tradition. Once we found a place to park we headed in. We passed by the Christmas tree processing area, where people who had just cut their trees were getting them shaken and bound up by a machine to take them home. As we kept walking we came to large red barn that had two levels. The main level was turned into a cafe area with food that turned out to be not too bad, despite the slow service. It was also a great place to warm up. The interior was filled with Christmas decorations, lights, music and videos. The lower level of the barn was home to the Christmas shop, the wreath making class, and the train tickets we needed to see Santa. We walked up to the counter and Meghan asked for two tickets (Riley was free), to which the woman began looking through a book and replied that she could get us on the 2:30pm train because someone had cancelled. It was just after noon. Apparently they begin taking reservations for this train as soon as August. Not wanting to wait that long, we told the woman never mind, to which she then replied that she could get us on the 12:45 covered wagon to see Santa. Apparently the only difference between experiences was what you rode out to see Santa on. That worked for us. With two tickets in-hand, we headed back out of the barn and began walking around to show RIley all of the animals. There were horses, goats, pigs, cows and even a reindeer. When we finished, we still had ample time to wait, so we headed back to the barn to grab some lunch.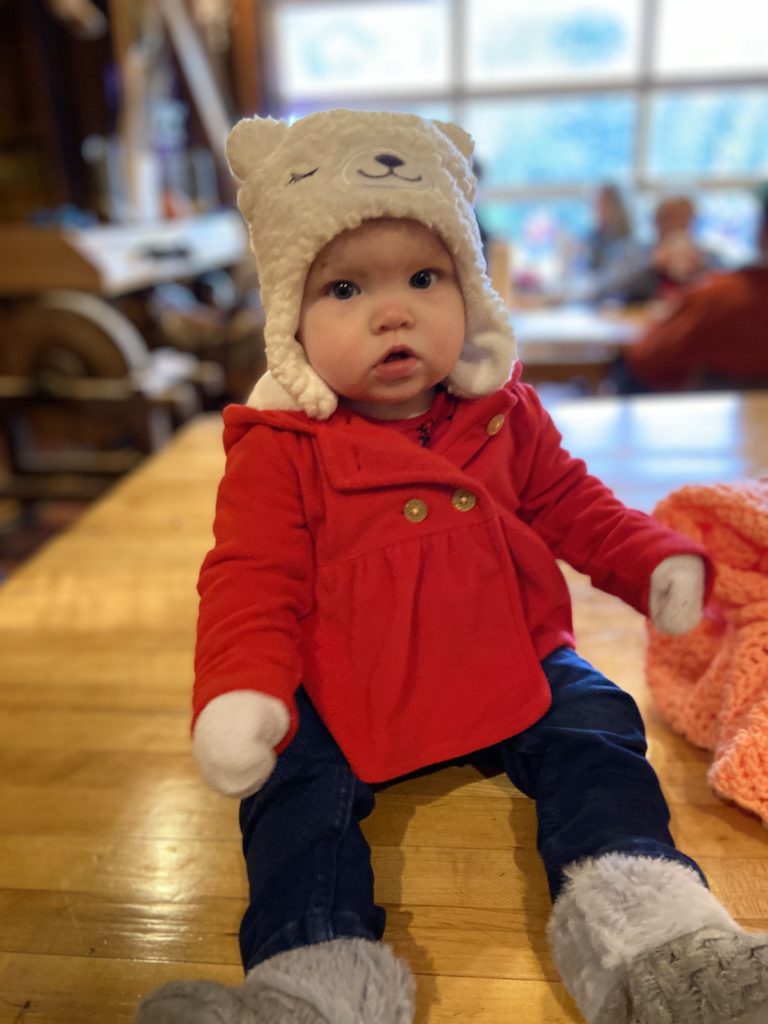 Because it took forever to get our food, despite it already being cooked, we had about 10 minutes to scarf it down before having to be to the covered wagon. With the food in our bellies we headed out to the wagon, which was now filling up with people. After about a 10 minute wait, the wagon headed out to the woods, being pulled by a tractor. Why the woods? In the woods was a cabin that housed Santa Clause and Mrs. Clause, the latter of which was serving up hot chocolate. With as cold and windy as what it was, that hot chocolate couldn't come soon enough. After a short ride, perhaps another 10 minutes or so, we arrived at a cabin in the woods. Off to the side was a fire pit with a nice fire going, and a small shelter area next to it with Mrs. Clause handing out hot chocolate. The majority of us got out of the wagon and headed up to the cabin. We attempted to go inside but discovered a large family group was already in there. They had taken the train out there which left slightly before us. Once that group left, it was our turn with Santa. The older kids sat on his lap for a picture (in this case it was taken by parents), while they told him what they wanted. They got a candy cane and a little bell to jingle when they were done. When it was Riley's turn, we wondered how she was going to react. Thankfully she didn't cry, and there was a moment where she smiled that I was able to capture. Another mom there asked if we wanted a family photo, so I handed my phone over while she took a few. With our time with Santa done, we headed back out to the porch of the cabin and grabbed a few more pictures there with RIley, before doing the same on another wagon sitting next to the cabin.
While we waited for the covered wagon to return to get us, the three of us met Mrs. Clause, and Meghan and I grabbed some hot chocolate, and then moved over to the fire pit to stay warm. After about another 10 minutes or so, the wagon returned and we all climbed aboard and headed back to the farm. When we arrived, we headed back to the car to head home. We had had enough for one day. Meghan and I hadn't prepared for how cold it was, but in the future we could definitely see spending more time here when we visit, it was a lot of fun, and something that could easily become a family tradition.
In closing out this post, you'll notice I didn't post the Santa picture(s) here. That was intentional. 😁