The holiday weekend had arrived, and to celebrate, Meghan and I hit up the theater to see 'Solo: A Star Wars Story'. If ever there was a movie that didn't need to be made, this was it. It was certainly worth a viewing, it wasn't that bad, but it didn't add anything to the Star Wars mythos that was interesting. Our faces pretty much say it all…
Afterwards we headed out for some cider at the Tin Can. Meghan sat and contemplated her future with me…'What did I get myself into" she thought. 😜
After a cider each, and a small amount of wedding discussion, we headed home…where we each split another can of cider. By this point I could tell it had been months since I had drank any alcohol, as the room was super spinny. Making my way to bed, I crashed. Let the weekend begin!
The next morning, Meghan headed out early to IKEA, and I headed to my parents for the night on my motorcycle (she was going to meet me there in a bit). We grabbed some lunch and headed back, just in time for Meghan to get there. We helped with some yard work cleanup, and then enjoyed a fire in the driveway while listening to fireworks going off in Jackson. Yes, I'm wearing socks with my sandals here!
The next morning I started looking at my baby book that was at my parents house and came across this picture. It's a sign made by my Uncle Tim, my dad's youngest brother.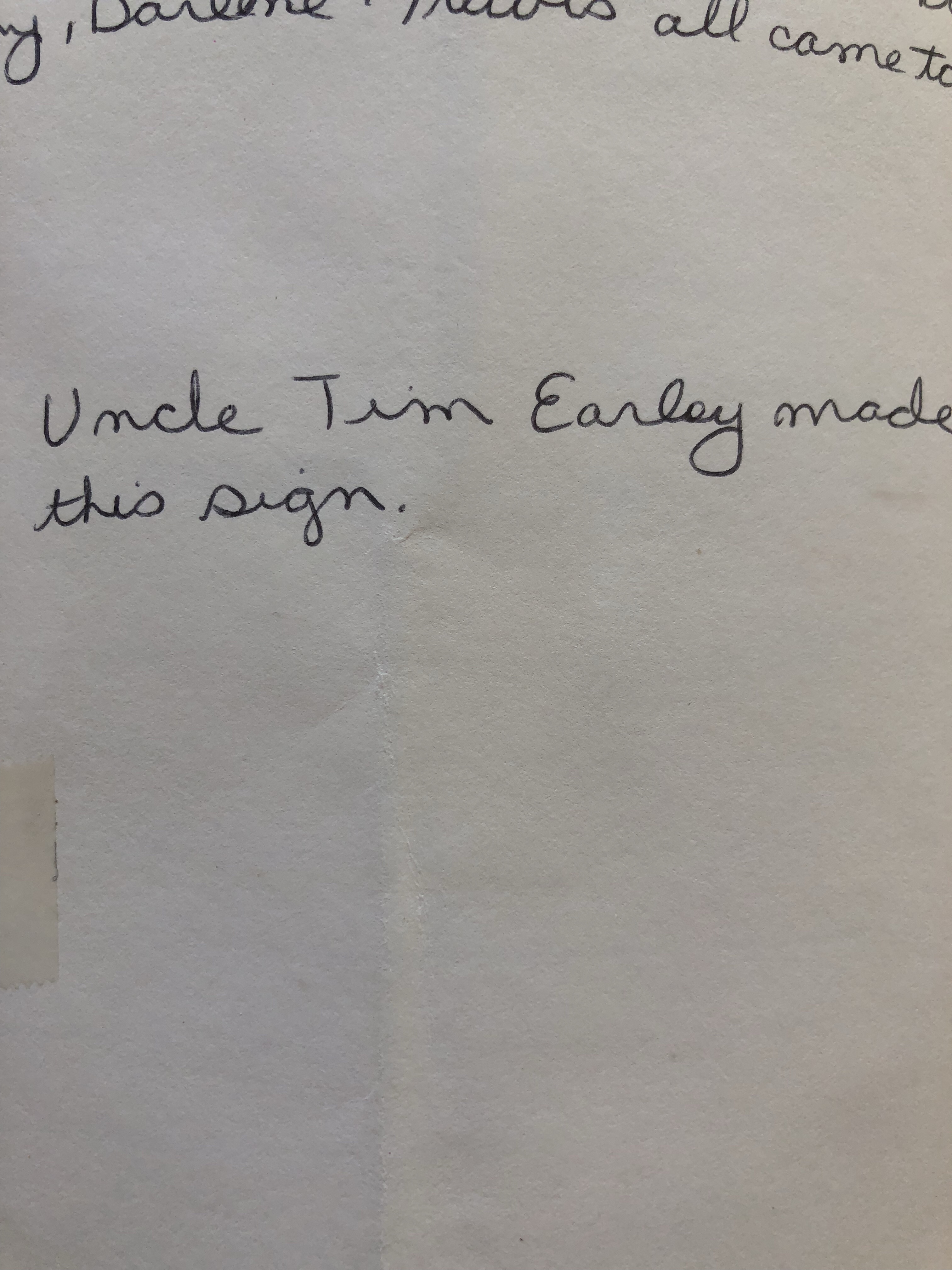 That morning, when Meghan finally got out of bed, she realized that what she purchased at IKEA wasn't going to fit in the spot we had intended to put the storage solutions she purchased. On that note, she headed back to IKEA, while I stayed at my parents. My dad hadn't been out on his bike at all last year because of issues he was having with his eye (detached retina that required surgery), but I wanted to ride with him, and he was eager to go. I helped get his bike back together (the seat and trunk were off for the winter while the battery was being charged), and after a bit of clean-up, we were on our way. After our ride, he headed part of the way back with me to Lansing before splitting off and heading back home.
When I got home, Meghan was already there putting together the IKEA storage solutions she had purchased.  These were going to go at the end of the kitchen where there had been a really shitty closet that I had opened up into the main room. Here you can see what she purchased. I still need to finish out the base trim (and get another door installed on the left there) and anchor the tall guy there to the wall, but overall this is a nice addition for some additional storage for things like recyclables, shoes, and our work bags. I plan on figuring out a coat hook solution here too in the future.
On Memorial Day, we both woke up pretty early. Wanting to get some more work done, I headed to Menards for some anchors to finish off the shelving solution I had come up with for the pantry. With the anchors in hand, i attached the lower shelving to add some additional storage space. Just have to put that door in now! 😜
After we got some work done, it was time to head to the Lugnuts game. In the prior week, I had stumbled upon some 'Pepsi Porch' tickets for the game. These tickets are sort of rare, in that they are only offered to the general public when a group reserves the Pepsi Porch, but doesn't use all of the seats. In those cases, any remaining tickets are sold to the public. The Pepsi Porch includes all-you-can-eat food, drink and ice cream. At only $35 a ticket, that sounded like a pretty good deal. When we arrived, a guy tried to scan the tickets on my phone, only to tell us we needed to go to 'Will Call'. When we got there, the guy explained that the Pepsi Porch was closed (no real reason given), and that they instead put us in the Clubhouse, and gave us $15 in 'Lugnuts Cash' to spend on whatever we wanted. I was also told that the difference (which came out to like $5 after the Lugnuts Cash was given) would be refunded to my card. Yeah…we'll see. The plus side of sitting in the Clubhouse (which I think was the only advantage here) was that the seats were actually in the shade.
A view of the field from our seats. Lovely bar in my field of view.
A shot of the 'Memorial Day 2018' graphic on the outfield screen.
Disappointed that there wasn't any all-you-can-eat ice cream, Meghan decide to grab us both some when the desert cart hit the clubhouse. $5 each for a little baseball helmet of 2 scoops of ice cream and some chocolate syrup. Can put this with my collection of baseball helmets from the 80's when I used to get ice cream in them at the Swiss Swirl in Brooklyn.