Have you ever seen that movie? It stars Micky Rourke and Don Johnson, the latter of which would have been better off staying in Miami. The movie is ridiculous, but the opening sequence is phenomenal. If you've never seen it, give it a watch here:
The motorcycle riding montage, combined with Bon Jovi's 'Wanted Dead or Alive' is the personification of what it feels like to ride a motorcycle out on the open road. In a word, it's "Amazing".
Spring is right around the corner, and it has me thinking about uncovering my bike in the garage and starting it up for the first time this year. I purchased the bike during Easter weekend of 2010, and while I don't quite ride it as much as I used to (especially now that Riley is here), it's certainly something I look forward to every year when the warm weather arrives.
Here is a look at my motorcycle just after getting it. It was a stock 2010 Harley Davidson Sportster Iron 883. The Sportster was the smallest bike they made at the time, but the 'Iron' model certainly turned heads (at least mine). It came with a matte black paint job, against a gloss black frame, with minimal chrome. A lot of Harley owners are all about that chrome, but not me, those chrome pipes were going to have to go.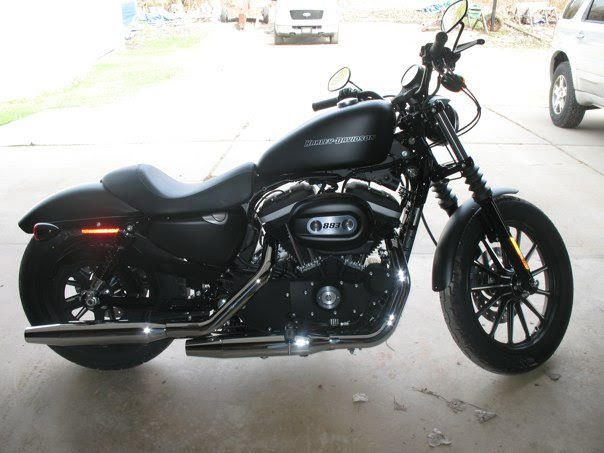 Not long after getting the bike, I started modding it. Like I said, the chrome had to go, so in their place went some Vance & Hines black Shot Shots pipes. A simple mod, that they actually do straight from the factory now, was inverting the mirrors so that they appear below the hand grips. Not only does it give the bike a more aggressive look, but it actually makes the mirrors functional – in their stock location all you can see is your shoulders and nothing else. I also added a 2-up seat and foot pegs (how else was I going to have a passenger?), along with a third taillight that appears at the bottom edge of the back fender. Not visible here, are some engine and intake upgrades. The 883 was severely lacking in the get-up-and-go department. You crank on the throttle and there was significant delay in any real power. To remedy that, you can either buy a bigger bike, or add more power to the one you got, so I went the latter route.
Town and Country Harley Davidson in Cement City, MI, upgraded the bike with larger pistons and jugs on the bike. This drastically changed engine compression and added a hell of a lot more horsepower. Additionally, I also upgraded the air intake to a Screamin' Eagle, and purchased a race tuner to have it tuned on their Dyno. The bike is now a Stage 2 bike – which in layman's terms means the work that has been done to it puts it in another class of bike (Google Harley Davidson Stages if you want to know more).
Within a few years of owning the bike, I realized that I was going to need a windshield. I started out riding with a full-face helmet, but wanted more of that open air on my face. The problem, with no windshield, that open air (and the bugs) slam right into your face. I once followed a dump trump down the highway that was carrying sand…I'm not sure I've ever felt more pain than that. The pain was so bad I was wincing and couldn't keep my eyes open, so I had to close them, bury the throttle, and pass the truck as quickly as I could. Luckily I made it. So I started looking for a windshield solution. Harley parts are notoriously expensive, but I settled on the official removable windshield that would let me attach and detach quickly.
My nephew Brody was born in 2009, so not too long after I purchased my bike. At that time I was living about 90 minutes away (if you speed!) and wanted to be a good uncle and form a relationship with him, so that meant spending a few weekends a month at my parents. That also meant needing to take overnight things with me, so I also purchased saddlebags, which you can see in the above picture.
Over the years I've put a number of miles on the bike, riding with my family, passengers or just solo. One of my favorite rides was on Father's Day (though I forget exactly what year it was) where my dad and I posed for this picture. I was at my parent's house to visit, and they rode to St. Johns with me, where we ate at Applebees and took this picture in the parking lot, before I continued on the rest of my way back home.
As we are hopefully starting to come out of this year+ now of Covid-19, with vaccines on the horizon, I'm looking forward to getting back on the bike. There are still a few more upgrades that I'd like to do yet…one of which I ordered only a few hours before writing this up – a detachable docking hardware kit. Once this kit is installed, I can purchase a detachable sissy bar for the back like the one below. In the event that Meghan ever gets a chance to ride with me again, she'll have some back support, and it just adds a bit of style to the bike regardless.
The last thing I've considered is forward foot controls. The Iron 883 has mid-controls, which are great for short rides around town, but if you're doing a long haul anywhere, you want to be able to stretch out your legs, and you can't do that with mid-controls.
Interestingly, as I write this, we are under a 'Winter Weather Advisory' with snow falling from the sky…but it's supposed to be sunny and 61 on Sunday, so I may just have to fire the bike up then and take it for a spin!