Hello! Greetings! It's been about four months since my last blog entry, and a lot has happened in that time period. At that time, the onset of the pandemic was occurring, and we had just celebrated Riley's first birthday. So let's play catch-up…
The Pandemic
Unfortunately I'm not talking about the board game here (though if you're into board games and haven't ever played Pandemic, you're missing out, as it's one of the best there is – see: https://www.zmangames.com/en/products/pandemic/ for more info). The three of us have pretty much been sheltering in place and staying home as much as possible. Meghan and I were both sent home from work and told to work from home until further notice in mid-March. Early on I came down with some sort of illness, had 6 of the 10 primary covid symptoms they were touting at the time, but was better within 5 days. I never did get a covid test (they weren't even widely available at that time), but considering nobody else in the house got sick within several weeks after me, I figured I didn't end up having it. Meghan however ended up getting sick a few months later and was sick for 3 weeks…though she did get a test, her results came back negative for covid.
Day-to-day life has changed a bit. In the beginning, we weren't even going out for groceries, we were using the delivery services for that. As time has gone on, I've been doing more and more of the grocery shopping myself (always with a mask!), avoiding anyone and everyone in stores like the plague. In fact, I refuse to go to a store, unless its an absolute necessity, any time other than right when they open first thing in the morning. I've even walked out of stores without getting what I needed when I had to interact with someone who either wasn't wearing a mask, or wasn't wearing one correctly, and took my business elsewhere. I can count on two hands the number of stores I've been in since the pandemic started (Meijer, Target, Kroger, Walmart, Menards, Home Depot and Horrocks). Anything else I've needed that these stores didn't have, I've used Amazon for. Meghan has been in about as many stores, though her outings are not as frequent as mine since she's in the immune compromised category. She did make one trip to IKEA a few weeks ago for some basement furniture though, but arrived when they opened, avoided the showroom, went right to the warehouse, and was in and out in about 45 mins (yes, she was wearing a mask too, as we believe in science in this house).
One the biggest changes for me has been not being able to go to the gym every morning. I own some dumbbells, but there's only so much you can do with those and at home workout videos on YouTube. I enjoy running outside, but back issues have prevented me from doing that on any sort of regular basis, and the elliptical was definitely my friend at the gym for cardio. Last month however, we purchased a Bowflex, something that had been out of stock for months because other people were also missing the gym it seems. Thankfully I've been able to get my daily weight training in on that, complimented with daily (sometimes multiple) walks.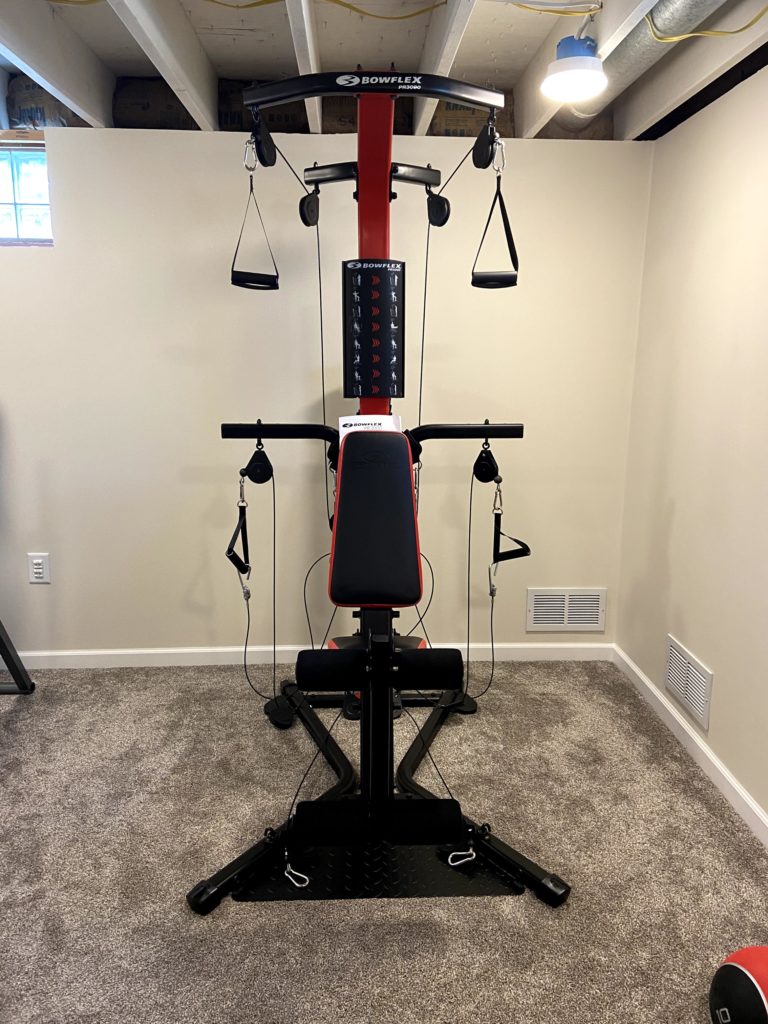 Our contact with family has been limited, mostly relegated to FaceTime, but my parents (and Brody) have visited us in-person a number of times now. We still social distance in the backyard though (us on the deck and them more than 6 feet away), and haven't been to any family members house since We celebrated Christmas. We do get out of the house though as a family…
Easter
While this was technically Riley's second Easter, this was the first Easter where she was actually able to be mobile, even if she didn't fully understand what was going on. This year we tried the egg hunt with her. Once she got the hang of what she was supposed to do, she was on a roll with hunting down the eggs and plopping them in the basket.
Easter was also the day she had her first bike ride. I finally tracked down a seat system that would work with my mountain bike (that was a hard one), as well as Meghan's bike. This particular system uses a rear mounted rack that allows you to quickly and easily detach the seat with a big yellow plastic clip that clips into the rack itself. With her bear helmet on, Riley made it about 30 minutes before she decided she had had enough and was going to cry. Thankfully we only had another 10 minutes or so in our ride.
Finishing the basement
Since purchasing this house back in March of 2016, I had always had the idea of wanting to finish the basement. The house was built in in 1967, and needed several updates. I also went with a house that needed some work to ensure than I could afford it on a single income, and so that I could make additional updates to it that I wanted to make. To date, the following changes have been made:
2016:
New furnace/central AC
Remodeled full bath
All new interior and exterior doors
New garage door
All new interior trim
2017:
New roof
Added decorative gable
2018:
Remodeled kitchen/dining area
Remodeled half bath
Upgraded attic insulation
New vinyl siding
New gutter
Custom tile backsplash in kitchen
Custom tile flooring in kitchen, half-bath, front door, garage landing area
2019:
Updated front porch (vinyl clad posts)
Updated exterior brick color
New rear deck (12'x 12′) w/ 8′ wide steps into back yard
New shed (8′ x 10′)
Towards the end of last year, I added rigid foam insulation to about 90% of the basement (the other 10% or so was inaccessible without moving or dealing with piping (both plumbing and gas). This area would be in the unfinished mechanical area anyways, so I was OK with that. Once the insulation was on, my dad and I created a grid-style framing system for what would be the finished area of the basement. The grid system allowed for easy attachment to the concrete block wall, and created a void to easily run electrical wire behind.
From there, I purchased drywall earlier this year and my dad and I put it up, while Meghan did all the cutting. The plan was originally to have someone do the finish work, but I figured I could save a lot of money by doing it myself…so I had to learn by YouTube. I grew up working in residential construction with my dad, so building is not foreign to me, but drywall and drywall finishing was never something we did. In the end, the seams weren't perfect, but I was pretty happy with the final result for having never done it before. We got paint on the walls and I got the trim up.
At this point we were ready for carpet. Back while I was finishing the drywall, I found someone to do the carpet. When it came time to carpet though, the pandemic was in full effect. Not wanting to have anyone in the house but the three of us, it was time once again to return to YouTube to learn how to carpet. I ordered the padding and got that and the tack strip down, and then it was time for the carpet. I ordered the carpet from Menards after finding some that was of the same style (frieze) as what I had found at Home Depot, but was of a much better quality for just a slightly higher price. With the Menards 11% rebate, I figured it all came out about even. Having never done carpet before, I didn't have any tools, so I had to rent a carpet stretcher (two actually in order to have enough length to make it across the room) and a carpet tool kit from Home Depot. Thanks to someone on Reddit who does carpet for a living, they provided us with the plans on how to attack the carpet install, which we followed pretty closely. Our seams aren't the best (though they did get better with each subsequent seam), but overall I was pretty damn happy with how it turned out. I can't say I'm ready to carpet an entire house, but it's perfect for a finished basement.
Carpet wasn't done yet though…still had the stairs to do. The stairs actually weren't too bad to be honest. Again, it got better with each subsequent step, but in the end I'd say it's at least a passable job.
Working from home
With the basement now finished, we could finally get our workspaces setup. Both Meghan and I have desk jobs, so we each need computer space. Meghan already had a powered standing desk, but I was relegated to using an old desk that we had. I too wanted to jump on the powered standing desk bandwagon (I have a standing desk in my office at work, so it's something I'm used to), but everyone seemed to be out of the desks. When I was finally able to track one down on Amazon, they failed to deliver it. Two weeks past the original delivery date, and the desk just never arrived…in fact, it never left the fulfillment center. After a lot of complaining on my end, I ended up with some free credit and was able to order another, which did finally arrive. I've been using it for several weeks now and like it a lot. I don't stand the majority of the time, but it's nice to be able to kick the desk up to standing height when I need a break from sitting.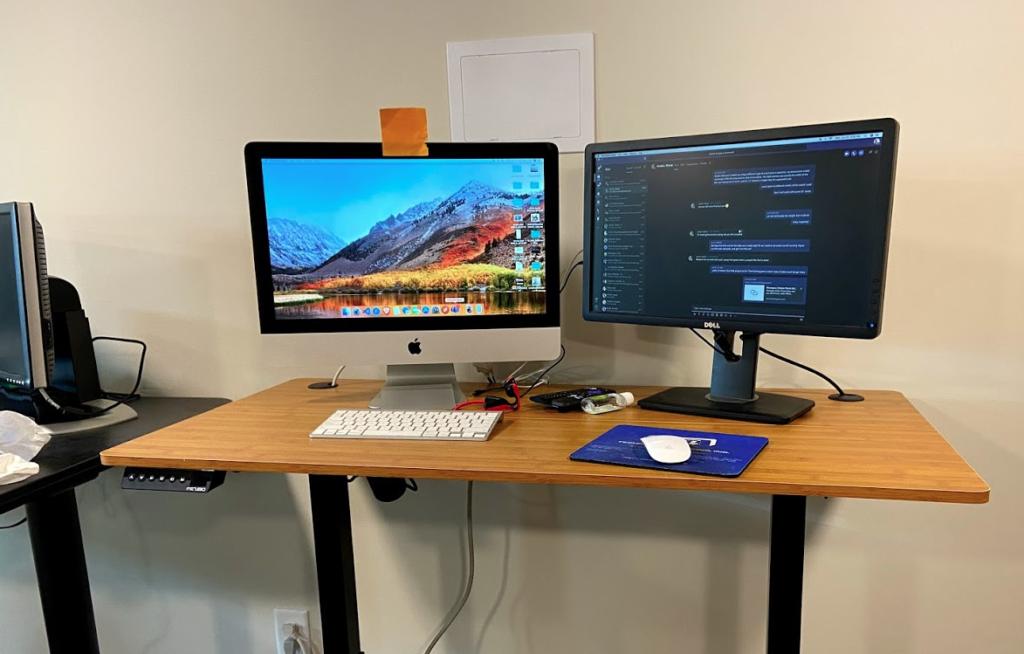 As of writing this, I'm unsure when I have to return to campus. Our office (I work for the Communications unit in the Dean's Office in the College of Natural Science at MSU) has a meeting next week to discuss returning to campus. I don't really have any desire to return in-person, and everything I need to do for my actual job can be done remotely….as it has been since March. Meghan's work is doing a phased return, with the possibility that she may just be able to continue to work from home (which would save a ton of money on daycare costs)…fingers crossed!
Pandemic Project
You're probably thinking…wait, the basement wasn't the pandemic project? Well it was…but I had another project I wanted to do as well. Since having the idea of finishing the basement, I had also wanted to install some type of bar. Initially I was thinking of a traditional bar that someone could actually walk behind, with bar stools on the front-side, but Meghan thought that would eat up too much space in the basement, and she liked the openness of our current setup. An idea I had toyed with previously in our kitchen (though a much smaller version) was a hanging mini-bar to hold alcohol and some glasses (mainly to get it out of our pantry). I started looking for Murphy Bars online, and came across a seller on Etsy. The design was perfect, but the price wasn't. The seller was charging $500+ for the bar with finish. So I started looking on Google and came across the exact plans for the bar that seller was making. I figured I could make that, so I swapped out the wood type (cedar for pine) and decided to make it myself. It wasn't until I had the box and tabletop assembled that I realized that the design was NOT actually bar height, but rather table height. Well, that wasn't going to work for the bar stools that Meghan had purchased, so I needed to come up with a solution. I wasn't going to start over and make the entire cabinet larger, which would allow for a longer table leg, so instead I built a foot out of some scrap 2×4 that the leg would sit on to bump it up to the proper height. I finished the Murphy Bar off with some stain and poly, and Meghan and I hung it on the wall and stocked it up with what was in our pantry. All set for some drinks and board games.
And that about sums up the last 4 months. With the pandemic still running rampant, vacations are probably out this year, as things are expected to get worse in the fall, not better. I'm not sure when we will be able to go out to eat again or visit with family, and going to movie theaters might be a thing of the past (which is fine with me because I hate the people on their phones distracting me anyway). I'm really curious to see how the return to campus works out for students (I'm expecting our in-person semester to be over shortly after it starts), and what comes of school for my nephews and nieces. Thanks for checking in and stay safe out there people!