Labor Day was finally here, and that meant one thing, heading to Mackinaw City for the annual family vacation. We've been going there nearly every year since I was a baby. My family and I always used to go with my grandparents (dad's side), and I'm glad it's a tradition we've continued even after they have gone.
Meghan and I took Friday off from work, so after packing the car up, we headed north, but not without taking our pre-trip picture.
We stayed at the Mackinaw Mill Creek campground, the same campground I've stayed in every year when I've camped over Labor Day weekend. This also happens to be the 4th year in a row that I've stayed at this campsite. Despite not having water or electricity, the site itself is fantastic in terms of the amount of space it offers.
After we were all setup, we made our way uptown to do the tourist thing, walk around all the stores and grab some fudge (4 slices of chocolate chip by the way).
On Day 2, Meghan, my mom and I wanted to do an escape room. We headed to Mind Thrill Escape Rooms for our 4pm escape (we had made reservations the day before). We chose to do the pirate themed escape room, in which we had 60 minutes to escape while following all of the pirate themed clues (which included skulls and bones, gold, locks, swords and more!). Team Peg-legged Charlie for the win!
After making our way through 3 rooms, and using all of our clues (and then a few more), we managed to make it out with a few minutes to spare. Despite what is pictured below, Meghan did NOT solve everything, ha!
After we left the escape room, we made our way to the Keyhole Bar. My aunt Martha (my mom's sister) always spoke highly of this place (as well as some friends of mine), but I'd never been. Glad we went! After downing a celebratory shot of whiskey, my mom with her beer, and Meghan with her ice water, we devoured our smorgasbord of appetizers.
The next day, Meghan and I convinced my parents to tag along to Mackinac Island. They hadn't been in a few years, so they walked around while Meghan and I rode our bikes. After a stop in the cemetery (I go there every year because there is a large plot laid out for the "Earley" family….not sure if there's an relation there, but maybe!), we discovered a trail we hadn't seen before or simply ignored. As we followed it, we came upon a sign in the woods for a park called "Turtle Park". It's apparently been there since 1980, who knew!? I've been going there nearly every year since I was a kid, and I had never heard of or seen this part. We rode out into the park and it had a large soccer field, basketball court, skate park and playground. As you can see below, we also found the turtle.
Next we rode out to the airport. I've always seen the backside of the airport, but I don't recall ever riding right up to the gate. From there, we continued our ride around the island, complete with some camera fun.
We met my parents back in town for a bite to eat, and then explored the stores a bit. Who wouldn't want this mask?
It looked like it was going to rain, so we headed back to the docks to catch our ride back to Mackinaw City. Meghan felt it was the perfect opportunity for a photo-op.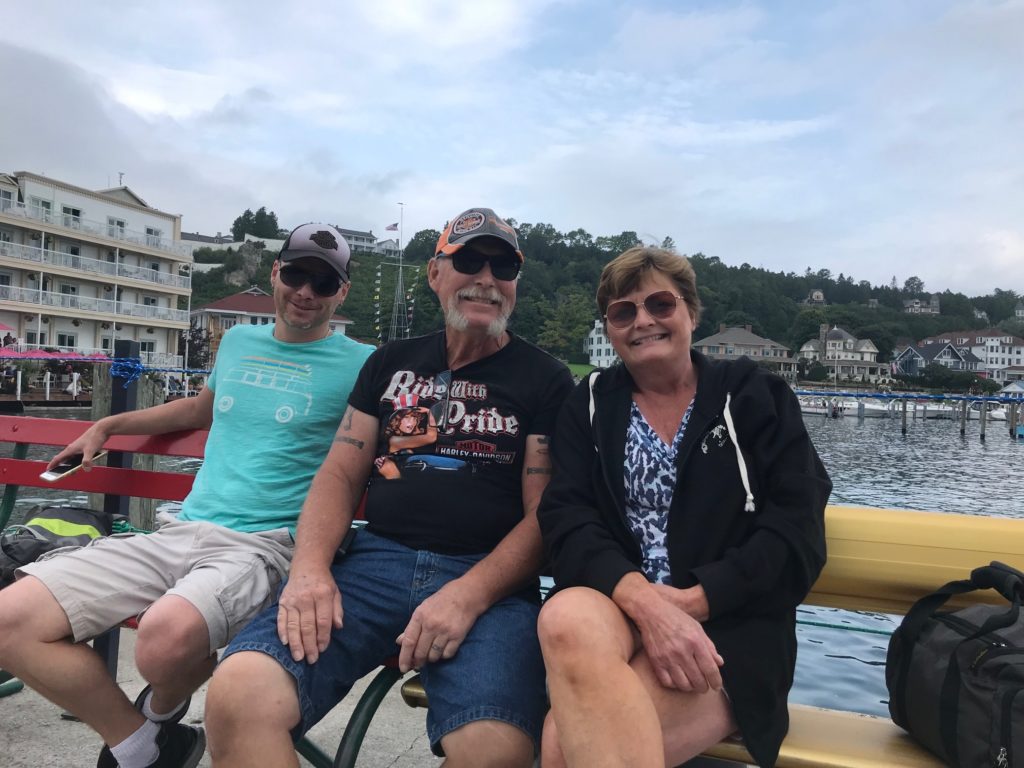 When we got back to the campground, Meghan crashed and decided to take a nap, while I decided to ride the bike path into town. When I got there, I decided to go west of town and ride by the houses along Lake Michigan. Little did I know there was a little public access park there which was the perfect opportunity to catch a picture of this freighter going under the bridge with the dark looming sky overhead. 
It was Monday, and Labor Day was here. Nobody wanted to walk the bridge, and with this year's crazy way of doing it, I don't blame them. Instead, we got up, ate breakfast and then decided to pack up our tent, despite staying till Tuesday. Why pack up a day early? They were calling for 100% change of rain all of Tuesday morning, and I didn't want to get soaked putting the tent away, so we packed everything up and moved in with my parents (they have a 5th wheel trailer) for the night.
Meghan and I rode our bikes back into town, to the same little park I found the day before, and sat on the wooden chair swing to take in the sun and the fresh lake air. I also snapped another picture of the bridge.
For dinner, we actually managed to convince my dad to go with us one more time to the Keyhole Bar. He said he'd never go, but we got him there, so mission accomplished.
I don't have any pictures of our journey home the next day, but as predicted, it rained hard, so I'm glad we took everything down the night before.
Another Labor Day in the can, and with it, another vacation. I'm not sure if we will be back next year for Labor Day, it might be time for something new and different, but I'm sure I'll make it there at some point in 2019 again.